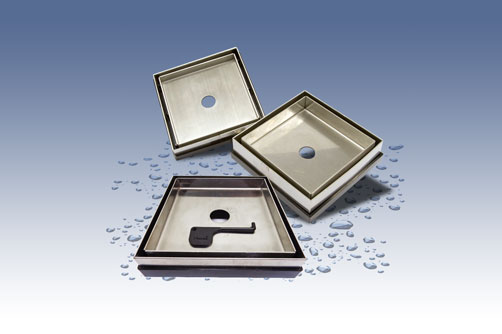 In Singapore or other parts of the world, when bathroom floorings are concerned, it is easy to overlook the plumbing details as small as the floor trap. Who would have thought that a bathroom's aesthetics can be further improved simply by choosing a Decorative Smart Drain over traditional water gratings and floor traps?
The NORIKA Decorative Smart Drain is built for the design-conscious as it is fitted with any matching ceramic or marble floor tile making it seamlessly blend in with the rest of the flooring. It can be installed in bathrooms, balconies and kitchens or areas where water drainage is required. The Smart Drain is easy to maintain as the tile can be easily lifted for cleaning whenever needed. A drainage filter that is enclosed within is designed to keep out pests such as mosquitoes and cockroaches.
Conventional forms of grating and floor drains come in chrome finishing, PVC or aluminium which tend to look worn out over the years due to regular use. With NORIKA Smart Drain, prolonged use will not affect its appearance because visually the Smart Drain's surface is the floor tile itself.
Through extensive product research and testing, the NORIKA Smart Drain is manufactured in 304/316 stainless steel grade and its body in uPVC for optimal durability. Compared with other gratings or floor traps in the hardware market, NORIKA Smart Drain is unparalleled with a higher water flow rate of 30-40 litres per minute.
NORIKA adheres to the water industry standard requirement of SS213:1998 for:
AISI304 Decorative SmartDrain (125mm)
AISI304 Decorative SmartDrain (150mm)
AISI304 Decorative Smartdrain10040 Tile & Marble
Equipped with strong expertise and numerous experiences, NORIKA is capable of supplying large orders for development projects. Projects in Singapore that has been undertaken with NORIKA include:
Yishun North Point City Mall
Clement Canopy Condo
River Isles Condo
Yale NUS college
Marina One Residences Condo
The Poiz Residences Condo
Mayfair Residences Condo
Onze Condo
VIIO Condo
Jewel Condo
The Glades Condo
Vermont On Cairnhill Rise Condo
Connection One Tower
Goodwood Grand Condo
Wilkie Terrace
View more for product details and specifications or contact us for further discussion
NORIKA – your preferred partner for smart drain and water hardware plumbing requirements.